Regular Faculty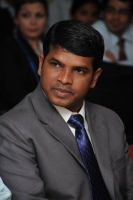 Dr. Selvam Jesiah
Dean (Academics), XIME Chennai

selvamj@xime.org


Dr. Selvam Jesiah, who is the Dean (Academic) of XIME Chennai, is a University Gold Medalist and served in various reputed institutions like Alliance University, Bangalore. He was the Chief Coordinator of SCAD Group of Institutions, one of the largest educational groups in Tamil Nadu. Preceding to these three assignments, he worked over half a decade as Director of Indian Academy School of Management Studies(IASMS), Bangalore, a highly rated and ranked B-School in India. He contributed immensely to the capacity building programmes of the United Nations Development Programme (UNDP) missioned for the establishment of Business schools and Department of Development studies at Sub-Saharan Africa.
Dr. Selvam has published many articles in the internationally and nationally reputed journals including "Economic Reforms and its Impacts in Ethiopia" published in African Development Review, Blackwell publishers, Oxford. His book on "Privatisation of Public Sector Undertakings: Experimentation Abroad" has been kept in Parliament library as one of the reference books for policy makers and his second book on "Fundamentals of Knowledgement" is widely marketed on Amazon and Flipkart. He presented many papers of management and public policy in many international conferences of premier institutions including Ethiopian Economic Association, IIM(B), and IISc, Bangalore. He authored a manual, Governance Version 0.1, which provides lucid guidelines as to how to administer educational institutions in a most effective manner.
Dr. Selvam, who is a recipient of the Best Teacher Award-2013 of National Foundation for Entrepreneurship Development, India, served in various academic committees including member of Board of Examination and Doctoral Committees of various universities across the country. One of his Research Papers on "Response of Higher Education to Globalization: Empirical Evidences from India, Journal of Educational Planning and Administration" was ranked in the Top Ten Papers for Journal of Labour: Human Capital and for Journal of ERN: Government Expenditure and Education, Social Science Research Network(SSRN).
Dr. Selvam is a member in the editorial boards of IASMS Journal of Business Spectrum and XIBA Journal of Business. Dr. Selvam is a trained assessor of National Assessment and Accreditation Council (NAAC).