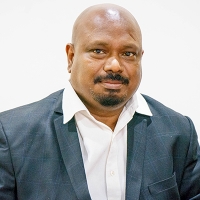 Fr Dr George Sebastian
Director, XIME Chennai

sgeorge@xime.org


Brief Profile
Fr. Dr. George Sebastian, Director, XIME Bangalore, is a Jesuit priest belonging to Jamshedpur province, he is an alumnus of XLRI (PMIR), also obtained Masters in Science in Positive Organizational Development from Case Western University, USA. His PhD thesis is on Transformational Leadership and Organizational Citizenship Behaviour from Madras University.
For a decade he worked in XIMB as Dean of Finance and professor in the field of Organizational Behaviour, then he worked at XLRI as Dean of Administration and professor in OB. He was also the Director of the XIME Chennai campus.
He is a visiting faculty at Loyola University, Baltimore, USA. His expertise is in the field of Transformational leadership, Emotional Intelligence, Positive Organizational Development and Managerial Counselling. He has conducted numerous MDPs, in-company programs, and workshops.
---

Area of Expertise
Transformational leadership, Emotional Intelligence, Positive Organizational Development and Managerial Counselling
---

Research Interest
Transformational Leadership, Organizational Citizenship Behaviour and Achievement Motivation