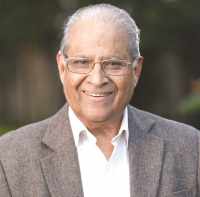 Prof. J. Philip
Chairman, XIME Bangalore

chairmanblr@xime.org


Former Director, IIM Bangalore
Prof. J. Philip is the founder and builder of Xavier Institute of Management & Entrepreneurship (XIME). He is currently the Chairman of XIME Bangalore.
Education
ITPBA, Harvard Business School
Personnel Management and Industrial Relations from XLRI Jamshedpur
Graduation from S.B. College, Changanacherry
Law Degree from  Maharaja's Law College, Ernakulam.
Positions Held
Director, IIM-B
Director (HR), Oberoi
Dean (XLRI)
Principal, Management Training Institute, SAIL
Institution Building:
Founded Association of Indian Management Schools (AIMS)
Founded Association of BRICS  Business School (ABBS)
Significant Publications
---
Human Resource practices and Labour Law – an International Comparison, 2014
Multiple Stakeholder Perspectives of Higher and Engineering Education-*, *Contributed a chapter titled Leadership and Excellence in Higher Education, Macmillan India Aug 2011.
Managing Management Schools: - A Leadership Perspective A festschrift in honour of Prof. J. Philip, President, XIME – 3rd July, 2010.
Business Education in India – A Ringside view – Jan. 2009.
Global Management education – Country Studies – May, 2009.
Institution building in India – Some experiences – Feb. 2007.
Management Education in India – Co-editor, March 1989.
Management the Simple Way – Co-Author – June 1979.
Recent Honours & Awards
---
The Prestigious Dr. Suresh Ghai Memorial Award for Outstanding Management Education leadership by the Higher Education Forum (HEF) on September 3rd 2016.
Life-time Achievement Award for Excellence in the Profession and Societal Contribution, Nov 2009, instituted by the Alumni Association of XLRI, Jamshedpur where Prof. J Philip was a student during 1958-60.
July, 2010: In recognition of his outstanding contribution to the cause of Human Resources Development in the country, Prof Philip was elected 'President Emeritus' of Indian Society for Training and Development (ISTD).
November, 2010: B-School Leadership Award (Dewang Mehta Business School Award) from Business School Affaire & Partner, Amrop International.
Star News 'National B School Awards 2011' in association with Canon honoured Prof J Philip with Life Time Achievement Award on 12th Feb 2011.
Kewal Nohria Award for academic leadership in Management Education 2011 instituted by AIMA – Sept. 4, 2011.
Le Matinal Innovative Leadership Award - 14th December, 2011
Award for Managerial Excellence by Madras Management Association on 6th July 2012