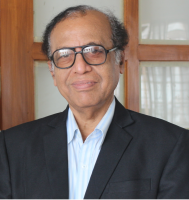 Dr. Naseer Mohamed Jaffer
Professor

jaffer@xime.org


Brief Profile
M.A (Economics): New College, Chennai, University of Madras (1970-1972)
M.Phil (Economics): Madras Christian College, University of Madras (1980-1982)
Ph.D (Economics): Madras Christian College, University of Madras (1991-1995)
M.A (English): Annamalai University (1994-1996)
M.A (Pol. Science): University First Rank Dr. Chittibabu Gold Medal - Madurai Kamaraj University (1992-94)
M.A (Sociology): Annamalai University (1992-1994)
M.A (Philosophy: University First Rank Gold Medal - Madurai Kamaraj University (1994-96)
MFM(Master of Financial Management): Pondichery University (1996-1998)
---
Area of Expertise
Economics and General Management
---
Research Interest
Economics and General Management
---
Publications/ Academic Honors/ MDPs Conducted
Economic growth and National unity — Role of Sustainable Development, Friendship Forum of India, New Delhi.
'One day in the life of a HR manager — an Exercise in Phenomenological Reduction' Institute of Development Studies, Kolkata.
'Affirmative Action and Social Justice — Role of Government, Corporates and B-Schools' Newman College, Thodupuzha, Kerala.
'A Study of Inter-state migration of population — An exercise in quantitative Economic Analysis' The Indian Econometric Society, University of Pondicherry.
'Globalization and Environment — Race to the Top' Indian Institute of Technology (IIT), Bombay.
'Ensuring Quality workforce for Indian Industry — Role of Government, Business and the Academia. 6th National Research Conference, AIMA, New Delhi.