XIME students eagerly participate in almost all the major students fests and competitions held across the country. And they are winners in most of these events! XIME has the enviable track-record of winning some of the most coveted prizes in events hosted by various management schools. Here are a few highlights:
XIME students crowned National Champions at All India Management Association, 2017
All India Management Association (AIMA) conducted its prestigious National Competition for Young India (NCYI) between 3rd – 24th November, 2017 across Bangalore, Bhubaneswar, Mumbai and Delhi. The Grand Finale for the winning teams from the regions was held at New Delhi.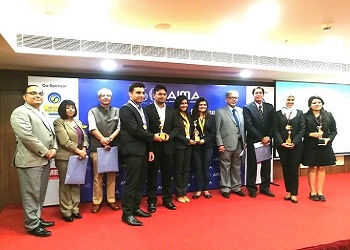 NYCI was launched in 2003 and is rated as one of the leading competitions on the calendar of graduate and post graduate students and institutions in the country. It is organized with the special objective of growing horizons, not only of management students but also for students from all disciplines. This is a unique platform for budding young managers to demonstrate their knowledge, creativity, experience and professional power to become 'Leaders of Tomorrow'.
Xavier Institute of Management and Entrepreneurship (XIME) has been associated with AIMA since its inception and continued its winning streak this year too.
Ms. Kamala Sundaresan and Ms. Jessica Mathias of XIME, Bangalore emerged national champions at the 14th NCYI organized by AIMA, on 24th November, 2017 at the national grand finale held in New Delhi. Mr. Arup Dasand Mr. Apurba Mukherjee of XIME, Bangalore bagged the runners up trophy. The theme for the presentation was 'Our Idea and Action Plan for a Developed India'. Kamala and Jessica competed against 12 regional winners from the North, South, East and West regions to bag the national championship. XIME is proud of its young achievers and wishes them all the best in their future endeavors.
CHENNAI INTERNATIONAL YOUTH FEST, 2017
Chennai International Youth Fest was held on 17 and 18 Aug, 2017 at VIT, Chennai. The event was conducted by the Ministry of Youth Affairs, Ministry of Urban and Rural Development and Ministry of Finance, Government of India.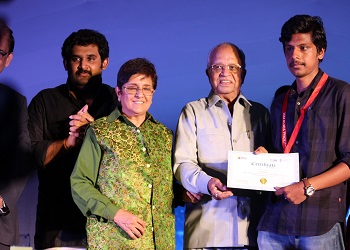 Mr.Anantharaman was awarded the 1st prize for Start-up Pitch by Kiran Bedi, Lt. Governor Puducherry.
This fest had a variety of competitions including the Startup pitch, the business jam, the business debate, the stress interview and the business quiz for the students from management background. The events witnessed the participation of students from various institutes like XIME-(Bangalore & Chennai), IIT-Madras, WCC-Chennai, PSGIM-Coimbatore, VIT-(Chennai & Vellore), and many more.
The students from XIME participated in all the events, and had a number of accolades to their credit.
Awards bagged by XIME Bangalore:
JAM (Just a minute)
Gayathri S, won the 1st Prize
Start-Up Pitch
Anantharam, won the 1st Prize
Stress Buster
Awards bagged by XIME Chennai
JAM (Just a minute)
Mr. Dinesh Konidala won 2nd Prize
Business Debate
Mr. Dinesh Konidala won the 1st Prize
Mr. Prabhjeet Singh won the 2nd Prize
HIRE - ME
Mr. Dinesh Konidala won the 1st Prize
Ms. Shreelekha won the 3rd Prize
AIMA National Competition

The 13th National competition for young India, Southern Regional round was conducted by AIMA in AIMS College, Bangalore on the 16th of November, 2016. Sheetal Nanjappa and Sharmil Nanjappa of Batch 21 lifted the overall winner's trophy. They advanced to the Nationals which was conducted on the 6th of December and were declared runners up and won cash prize Rs.30, 000/-.
Infosys Ingenious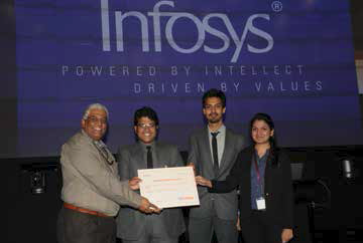 Dinesh, Shivayani and Deepankar of batch 21 won the runners up and bagged a cash prize of 50000 INR at the 'Infosys Ingenious' 2016 on 26th December 2016.
CMS B-School Management Fest-Cranium'16 Jain University (4-5 Nov 2016)
Ananthram and Sushmita Purohit from batch 22 participated in Cranium'16 conducted by CMS Business School, Jain University. Ananthram won the Best Entrepreneur Award and Sushmita won in the operations event. Both faced various challenges which included case evaluation, planning and quiz. They were given a fully sponsored trip to Beijing and Shanghai for six days for the grand finale. There they presented on different topics like FDI Policies, climatic conditions and terrorism and bagged the "Overall Champion Award" at Shanghai.
Christ University Management Fest USHUS 2016 (25-26 Nov 2016)
XIME was the Overall Winners of the Event
Best manager Award - Christy Joseph
Winners of the Finance Event - Shubhangi Kulkarni and Addanki Nagajyoshna
Winners of the HR Event - Akankhya Nanda and Sneha James
Winners of the Operations Event - Alwin S John and Prayag K.C.
All the winners are from Batch 21
IBS Bangalore's Sameeksha and Samskriti 2016 (21st Oct 2016)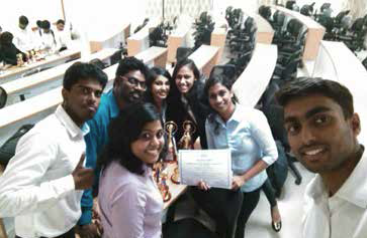 Winners - Sowmiya Muruganandam, Sreelaxmi Surendran, Vinoth Ganesh and Vivek Kumar from Batch 21
Runners Ups- Neha and Kunal Joshi from batch 22
St. Aloysius- Insignia'16 (15th and 16th November 2016)
XIME won the overall runners up trophy
Runners up Operations Event - Prayag and Joseph
Runners up CSR Event - Vinoth Ganesh
Runners up Marketing Event - Nikhil Jain and Hitesh
St. Joseph's Management Fest-Verve (11-12 Nov 2016)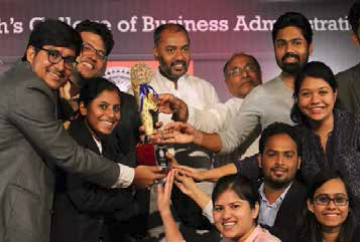 Bets Manager's Award – Assumpta Pinto
HR Event Runners up - Devyani Saxena and Poree Goswami
Entrepreneurship event Winners- Patrick and Poonam
Finance event Winners - Arzoo Tomar and Jyoshna
Winners for stock - Dinesh Sairam and Arun Kumar
All are from Batch 21
Best Budding Manager at National Level
Ms. Jennie George won the Best Budding Manager title at the 11th National Level Competition for Young India 2014 conducted by All India Management Association. She will now attend the Young Manager's Conference hosted by Macau Management Association.
Ms. Jennie George and Ms. Jain Thomas were crowned as National Champions at the 11th National Competition for Young India.
Best Manager Award
Ms. Arya S. Nair won the Best Manager Award in the competition conducted by Kerala Management Association (December 2013)
Mr. Santosh Padmanabhan won the Best Manager Award in the competition conducted by Mariam College, Kuttikanam - December 2013.
Best Overall Team
XIME, Bangalore students won the first prize in 3 events and won the second prize in 3 more events to bag the Overall Trophy at Naissance 2014, the Management fest conducted by SDMIMD, Mysore.
XIME, Bangalore team won several events in the Management fest Yukti 2014 hosted by Thiagarajar School of Management, Madurai. XIME was declared as Overall Champion.
Students of XIME, Bangalore were the winners of 3 events and were declared as the Overall Trophy Winners of Archish 2014 conducted by Indus Business Academy.
Best Research Paper
The Research Paper on 'Effectiveness of Case Study as a pedagogical tool in Management Education in India' written and presented by Mr. V.B. Vishak and Ms Jennie George was adjudged as Best Paper in the International Conference organised by Association of BRICS Business Schools (January 2014).
Best Business Plan
Ms. Surabhi Agarwal, Mr. Siddhartha Chitrapu and Ms. Sharika Ahmed won first prize in Business Plan Competition 2014 at Madras Management Association, Chennai. They also won the first prize in the Business Plan Competition 2014 held at Jyothi Nivas College, Bangalore.
Ms. Hridya PK., Ms. PSSN Swetha, Ms. Padmavati Devi and Ms. Thuruvelli Stefy Augustine, XIME, Bangalore won the first prize in the B Plan competition on Rural Solar Electrification conducted by Kirloskar Institute of Advanced Management Studies held in September 2014.
Best Case Analysis
XIME team of Mr. Awadhoot Apte and Mr. Uddipto Basu won the Best Case Analysis conducted by Nestle, India on the Topic 'Locating to serve...where next?'.
Winners in Quiz
Mr. Lajeesh Pillai and Mr. Shodhan Shetty, students from XIME. Kochi won the second prize of Rs. 1 lakh in the NIPM, Quiz 2014.
XIME – Kochi's Quest (25th November 2016)
Second in Marketing Event - Ekankita Agarwal, Ayushee Tripathy and Asim Satya Mishra from Batch 21