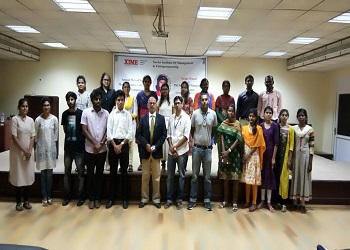 Annual Maria Philip Memorial Inter Collegiate Debate Competition 2017
This debate competition is organized in memory of Maria Teresa Philip, late daughter of Prof J Philip, President XIME who passed away in a tragic accident on September 30th, 1986 in Chennai. She was an extremely popular student and was equally good in studies and extra-curricular activities. She was an excellent speaker, organizer and leader. To commemorate the memory of Maria, who was an excellent debater, and to encourage debating talent among college students, XIME has been organizing this contest for over 21 years now.
The topic for this years' debate is, "Young India: Demographic Dividend or Ticking Time-Bomb".
The Zonal Semi-Finals were held in Chennai and Coimbatore on September 23rd 2017. Cash award of Rs. 10000/ - were given to the semi-final winners. While the 01st and 2nd runners-up received Rs. 5000/- and Rs. 3000/- respectively.
Coimbatore:
Winners : Cash award of Rs.10000/-
College Name: St. Joseph's College, Irinjalakuda
Team : Ms. Claire C John & Ms. Parvathi Arul Joshi
1st Runner-up: Cash Award of Rs.5000/-
College Name: NIT, Calicut
Team: Mr. Abdulla & Ms. Annesha Debroy
2nd Runner up: Cash Award of Rs.3000/-
College Name: KCT Business School
Team: Ms. Manisha P. & Krishna Rubigha K.
Chennai:
Winners : Cash award of Rs.10000/-
College Name: Madras Christian College, Tambaram, Chennai
Team : Ms. Shwetha Grace Eapen, Mr. Ramakrishnan Srinivasan
1st Runner-up: Cash Award of Rs.5000/-
College Name: Sri Venkateswara College of Engineering, Sriperumbudur, Chennai
Team: Mr. Mohamed Anan, Ms. Harita R
2nd Runner up: Cash Award of Rs.3000/-
College Name: Xavier Institute of Management & Entrepreneurship, Chennai
Team: Mr. Shashwat Mishra, Ms. Shreelekha