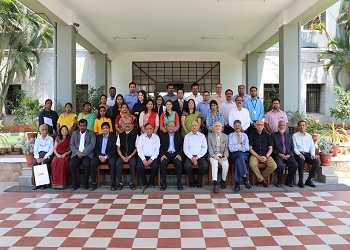 XIME, Bangalore hosted its XIME-IEF 2nd International Academic Conference on 'Entrepreneurship & Innovation in the Knowledge Economy' from 30 – 31st march 2017. The conference was jointly organized in collaboration with University Of Essex, International Entrepreneurship Forum (IEF) and Association of Brics Business Schools (ABBS). Prof. Mathew Manimala & Prof. Jay Mitra were the Conference Co-chairs and Dr. Deepthi Shanker was the Conference Director. The distinguished speakers in the conference included Prof. Piero Formica (Maynooth University), Prof. Sari Matila (IIM Bangalore), Prof. Edward Tswang and Prof. Jay Mitra(University of Essex).
The conference attracted more than 75 abstracts from scholars across the county, of which only 32 research papers were shortlisted for the final presentation during the conference. These papers were presented and discussed during nine different parallel sessions and four were awarded as best papers under different categories. They included: 'The Impact of emotional Intelligence and entrepreneurial skills on the future entrepreneurs' by Dr. Hannan Frederick and Janet Ebenezer from Christian College Chennai under the Empirical paper category; 'Antecedents to entrepreneurship – A meta analysis' by Prof. Subramoniam K from Saintgits Institute of Management, Kerela under Conceptual paper category; 'Raising awareness of vocational skills with education at an early age to harness demographic dividend in India' by Dr. Malathi Iyer from Vivek College of Commerce, Mumbai under Case study category; 'Need for comprehensive competency building in the knowledge economy' by Prof. Shanmugam from XIME Bangalore under Reflective practice paper category.
The conference also organized two panel discussions titled 'Innovations in Social Enterprise' chaired by Prof. Ashok Prasad and 'Will the existing business models survive in the knowledge economy' chaired by Prof. A. Anantharaman. The panelists included Mr. Ananth Aravamudum, senior adviser, Viligro Innovations; Mr. Mervin Rosario, CEO, Ignus Learning & Educare Solutions; Prof. Suryanaryanan, XIME Bangalore; Dr. Srivardhini.K. Jha, IIM Bangalore; Dr. Balaji Parthasarathy, IIIT Bangalore and Prof. Sam Placid, XIME Bangalore.