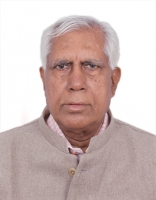 L.R.S Mani
Visiting Faculty

+919886443901

lrsmani@gmail.com


After a long stint of three decades in various reputed manufacturing organizations and full time assignments with two educational institutes, he is currently a Business Excellence Consultant and contributes to train Corporate Executives as well as help Educational Institutes for upgrading their systems for getting accredited by NAAC, NBA and IACBE.
Currently on the Advisory Board of few educational institutes, visiting faculty in many MBA colleges in Bangalore and training assignments in Corporate Organizations. The Institutions include IBS, XIME, ABBS, IFIM, NSB, IGTC, Jain University, Surana College and St. Joseph College of Commerce.
After over three decades in Industry and since 2004 in Academics in various capacities as Senior Professor and Dean for Management Institutes pursuing the passion to bring about total transformation in the students and prepare them either to face Corporate Life or become Successful Entrepreneurs. Firm belief that mentoring and nurturing the students rather than mere counselling can produce results has been practically experienced.
Certified Lead Auditor for Quality Systems – ISO 9001:2000. Implemented in both industry and management institutes.
Total 35 years of Industry experience with over 10 years of Management teaching experience
Strengths

Devising and improving course curriculum
Recruiting quality teaching staff
Maintaining excellent relations with Corporate Organizations
Student mentoring and personality development
Adaptable to diverse cultural environments