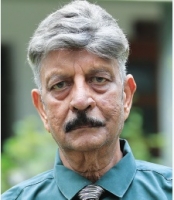 Prof. A. Anantharaman
Provost

ananth@xime.org


Brief Profile

Prof A.Anantharaman is Professor of Strategy, Innovation and General Management, who has taught at several prestigious International Business Schools in USA, Europe and Asia. He is a graduate in Mechanical Engineering, an MBA, and AMP (Advanced Management Program) of the Harvard Business School and a Ph.D. from Columbia University.
He has also served as a UNIDO Expert and an Advisor to several West African Governments on Industrial Policy.He started his career with the Unilever group in India and has subsequently served in several senior positions as CEO with Multinational corporations in Asia, Africa and the USA.
He has taught and is also currently teaching Corporate Strategy, Innovation and Entrepreneurship, Leadership Styles, Mergers - Acquisitions - Restructuring, and Management Control Systems. He has served in the Board of several corporations in India, Europe and the USA and has advised corporations on Strategy, Succession Planning, Business Reengineering and several other specific General Management areas.
---
Area of Expertise
Strategy, Innovation and General Management,
---
Research Interest
Strategy, Innovation and General Management,
---
Publications/ Academic Honors/ MDPs Conducted
Conducted Workshops on Case Study Method of Teaching at several Business schools in India and abroad.
Guided the research of several Doctoral and Postdoctoral students on Turnaround Strategies, Inclusive Growth, Shared Value, Microfinance, and Strategies for companies in Developing Nations and Business-Government-Society Interface Models.